New prisons
The NSW Government is taking action to address the State's growing prison population and reduce reoffending.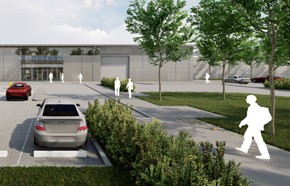 Over the past five years, a growing population, more effective policing and improvements to bail laws have placed increased pressure on the prison system. In 2016 the NSW Government announced Better Prisons, a program of reform and rebuilding that includes a once-in-a-generation investment in modern, secure, fit-for-purpose prisons.
The centrepiece of the program is a new Clarence Correctional Centre south of Grafton, expected to open in 2020. Clarence has been designed in partnership with the private sector to serve as the corrective services hub for northern NSW.
Already, we've delivered two new 'rapid build' maximum-security prisons at Cessnock and Wellington, a new maximum-security centre for women at Lidcombe, and major expansions at Junee, Mid North Coast, Parklea and South Coast correctional centres.

Across the State, upgrade work continues at our centres at Bathurst (pictured above), Cessnock, Goulburn, Parklea and Silverwater, as well as the John Morony complex at Berkshire Park.

Premier's priorities
Contact us
For more information, or to provide feedback:
Last updated:
22 Feb 2023